Made in Indonesia
Bandung, Java island, capital of the Indonesian textile
Although that has nothing to do with this, the brief apparition of the red-veiled girl happened little time before I enquired about where Alix's bathing suit was produced. The indication « MADE IN INDONESIA » for where it was originally made was written on the tag.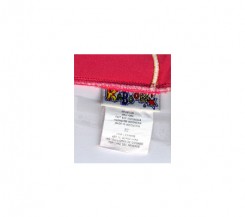 I was curious, so I checked on the Internet.
The entry « Indonesia textile industry » brought me to a Journal du Net article. I learned that Bandung is the capital of Indonesian textile. Might the bathing suit have been made in that town near Jakarta, on Java island?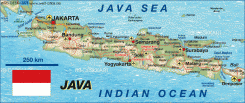 From the beginning, the article is illustrated with the photograph of a veiled girl working on optimising her use of fabric with a computer.
The next page shows a clothing manufacture workshop. The women, whether or not they are veiled, are wearing light-colored clothes and are working seated at their sewing table. In the foreground, three young women are checking for the quality of the work done. The metallic structures of the ceiling are brought out by the head-on perspective that draws the eye to the windows in the background.
Time period
March 2007